Model Cannabis Brands with Business Lessons to Teach
Branding is about more than aesthetics. It's the meaning of your company that your target audience reads between the lines.

The same rules apply to companies in the marijuana industry. Don't be fooled into thinking that your brand will succeed because you're selling cannabis. The marijuana industry is strong and growing, so you must have a branding strategy to stand out amongst the competition.
How you decide to present your business will become your branding – an authentic symbol of your customers' worldview.
There are several cannabis brands that have mastered the concept of branding a marijuana business. Keep reading for our list.
FIGR Cannabis
When FIGR chooses which partners they work with to produce top-shelf craft cannabis, they choose carefully. FIGR is part of a larger cannabis and tobacco company that has been around for 145 years, Pyxus International, formally called Alliance One International. Their SENTRI track and trace system uses the lot number located on the package to trace the origin of your cannabis from source to market, all the way back to the mother plant.
It's important for customers to know exactly where their cannabis comes from and to trust the people who grow it. But working with partners who can grow great cannabis is one thing — partnering with agricultural entrepreneurs who have true farming wisdom that's been passed down through generations is another. Partners like that might be rare — but for Figr, it's a must.
K.I.N.D. Concentrates
K.I.N.D. Concentrates may be a run-of-the-mill marijuana company, but it made a name for itself in Arizona. It's successful because the company's owners stick to what they know: high-quality cannabis concentrate products.
K.I.N.D. is one of the fastest-growing brands in the country – even though they exist only in Arizona! The company was founded in 2013, which makes it one of Arizona's flagship cannabis companies.
What makes K.I.N.D. Concentrates unique is a variety of THC-rich offerings. They even have an attractive CBD capsule option for customers who don't like the experience of smoking marijuana.
K.I.N.D. Concentrates's branding strategy is of the "stick to what you know" variety that works well for loyal and new customers alike.
Seven Point
With an apparent marijuana reference in its apt name, Seven Point offers some of the best-branded products out there. The company, based in Chicago, has become a legend in its hometown.
Seven Point dominates branding with artisan boxes that could fit into the decor of a high-end penthouse. The outer box is white, while the inner box matches a color that's specific to a pot strain. The overall look is sleek and minimalist – a branding concept that the marijuana industry has been lacking.
Currently, Seven Points only offers medical products in the Chicago area, but its branding is quickly getting noticed elsewhere.
Hiku
Hiku owns several companies such as DOJA, Tokyo Smoke, and Van der Pop. It's so big that it is traded on major stock markets. After an acquirement by Canopy Smoke, the company's reach is even further.
DOJA is the company's most-followed brand. They sell unique flower products in Vancouver and Toronto, which has garnered quite a loyal following.
Once Hiku's brands break into the U.S. market, they're destined to disrupt the country's marijuana industry.
Willie's Reserve
Willie Nelson has become an icon in the marijuana industry, so it's no surprise that a brand in his name has risen to the top.
Willie's Reserve is sold all over the country, and they create a variety of products including candy, chocolate, and drink mixes.
Also unique to Willie's Reserve are pre-rolled joints sold in small, airtight canisters. These canisters give the joints a high-end look and feel that customers can't resist.
Marley Natural
Multi-million dollar company Marley Natural expands its brand outreach while offering apparel and accessories alongside their cannabis products.
If you're asking yourself, "what is branding?" Marley Natural's eye-catching packaging design is a perfect example.
Bob Marley's granddaughter, Cedella Marley, is the company's spokesperson. She has capitalized on the family name by offering products branded with her name and the iconic lion logo.
Sure, using the Marley name to sell weed was guaranteed success, but their products are high quality and remain a favorite among cannabis enthusiasts.
Apothecanna
The name "Apothecanna" sounds luxurious, right?
That's because it is.
Apothecanna's hemp topicals don't contain THC, but their package design features a tiny marijuana leaf on the corner of every bottle. That's the only indication that the products contain hemp extracts.
The company's minimalist approach produced a product that looks like it belongs on the shelves of a luxurious spa. Sometimes, customers don't want to carry around products that are heavily labeled with indicators that they contain marijuana.
Apothecanna caters to those who are more private about their usage but still want a high-quality cannabis product.
Caviar Gold
Each joint produced by Caviar Gold is made with flower that is dipped in 95% pure THC distillate, then dusted with kief.
This combination is a bit much for casual cannabis users, but it's become a novelty for the practiced marijuana enthusiast.
Caviar Gold has made a name for itself among cannabis brands by offering a product that is anything but ordinary. Selling its products mainly in Washington, California, and Nevada, it's named as one of the best flower companies in the country again and again.
OreKron
OreKron entered the market later, claiming to use buds grown with pure sunshine. These award-winning flower products come from climate-controlled greenhouses.
While it's not a common name yet, the Oregon-based company has created prized strains such as Strawberry GSC and Razzberry Kush. It's quickly extending its reach by offering sustainably grown, unique cannabis products.
The Goodship Company
The Goodship Company is the only edibles-only brand on this list. They offer an impressive selection of delectables including jellies, cookies, tokens, and pasties.
This company is known for raising awareness of social issues. They have an initiative called "Higher Education" that features a yearly lecture series on subjects such as cybercrime and prehistoric sex.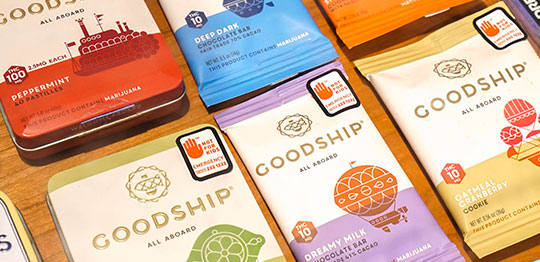 Siskiyou Sungrown
Siskiyou Sungrown is known for selling unique, organically-grown concentrates.
Their products are grown in a soil substrate and produced with organic cane alcohol. Also at the top of the list are high-potency CBD tinctures, CBD capsules, and hemp topicals that are lab-tested.
Siskiyou's brand focuses on health and well-being in addition to getting their customers high. They're less of a recreational brand and more of a wellness one, which is somewhat refreshing in today's cannabis business landscape.
What You Can Learn from Top Cannabis Brands
To compete with the top cannabis brands, you must create a branding strategy that is authentic and unique to your business. Whether this is through packaging, messaging, or product offerings, find a way to set yourself apart from the rest.
We hope this article has inspired you to define your brand.
We're the experts on all things cannabis. Keep browsing our website for growing advice, a history lesson, or an overview of cannabis law.
Originally posted 2019-11-13 18:46:35. Republished by Blog Post Promoter